Understanding Ulcerative Colitis (UC)
Learning about UC is the first step toward managing it. If you or a loved one is living with UC, understanding the condition will help you discuss with your doctor.
Click one of the tabs below to start learning more about UC.
What is Ulcerative Colitis?
UC is a chronic disease that may cause bowel inflammation, diarrhea, and rectal bleeding. UC can be called several things, depending on how the disease affects the large intestine, also known as the colon:
Pancolitis, in which inflammation is present throughout the entire large intestine
Distal colitis, which consists of left-sided colitis, ulcerative proctitis (UP), and ulcerative proctosigmoiditis (UPS)

UP is confined to the rectum
UPS reaches higher into the colon
Ulcerative colitis only affects the colon. A similar disease, Crohn's disease, can affect any part of the digestive tract.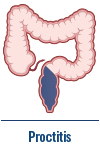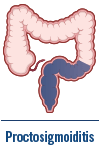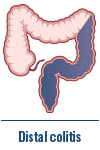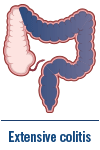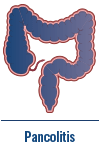 NEXT: Resources