ABOUT UCERIS TABLETS
UCERIS tablets are used to help get active, mild to moderate ulcerative colitis (UC) under control. They are for UC symptoms and flare-ups and may help people achieve remission—a period of time without any symptoms.
UCERIS tablets are designed to work directly in the colon at the site of UC
They may reduce flare-ups throughout the colon, provide extended release of medicine in the colon, and work directly where UC is located.
Because of the way UCERIS tablets are designed to be released and work in the body, steroid-related side effects in clinical studies were similar between UCERIS tablets and placebo (sugar pill).
In clinical studies, the most common adverse reactions of UCERIS tablets (occurring in ≥2% of UCERIS patients and at a higher incidence than placebo) were headache (11%), nausea (5%), decreased blood cortisol (4%), upper abdominal pain (4%), fatigue (3%), flatulence (2%), abdominal distension (2%), acne (2%), urinary tract infection (2%), arthralgia (2%), and constipation (2%).
UCERIS tablets are taken once a day for up to 8 weeks
The recommended dosage of UCERIS tablets is one 9-mg tablet taken once daily in the morning, with or without food, for up to 8 weeks.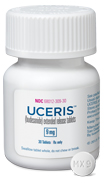 NEXT: How UCERIS Tablets Work